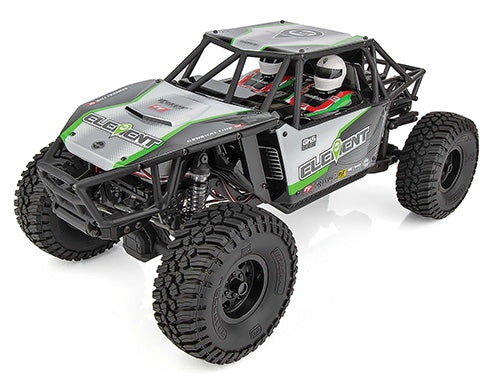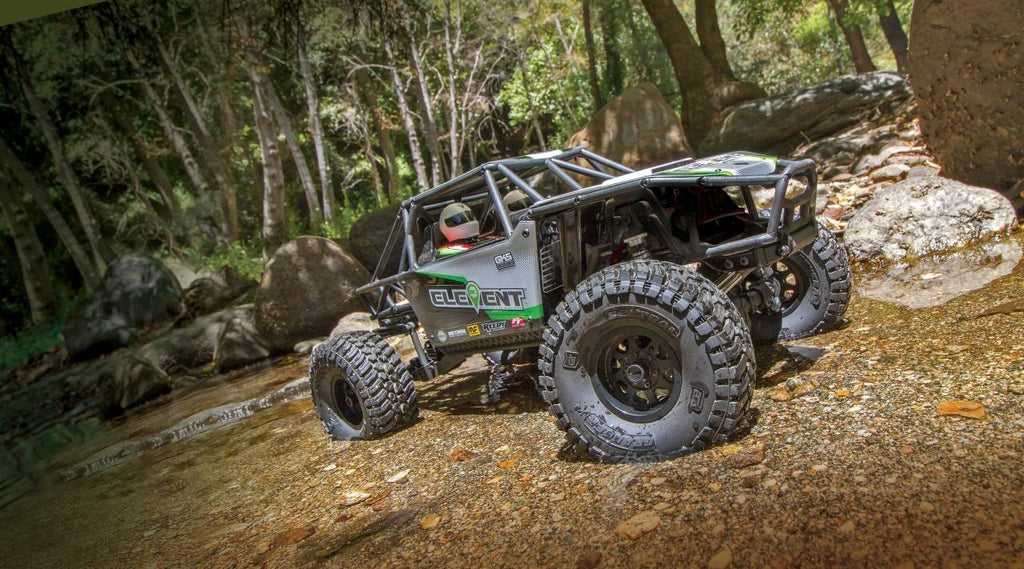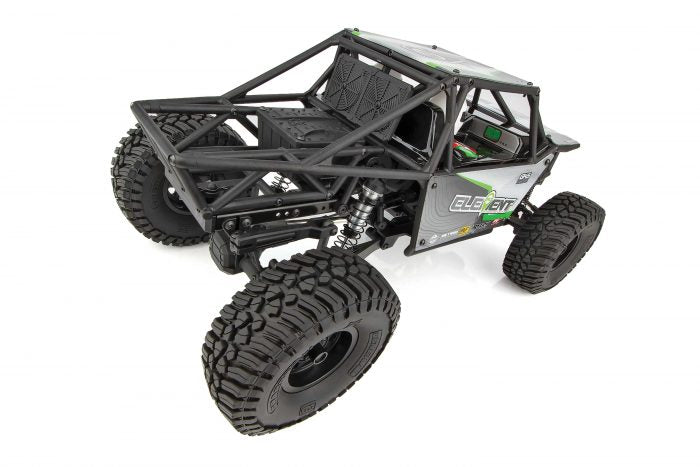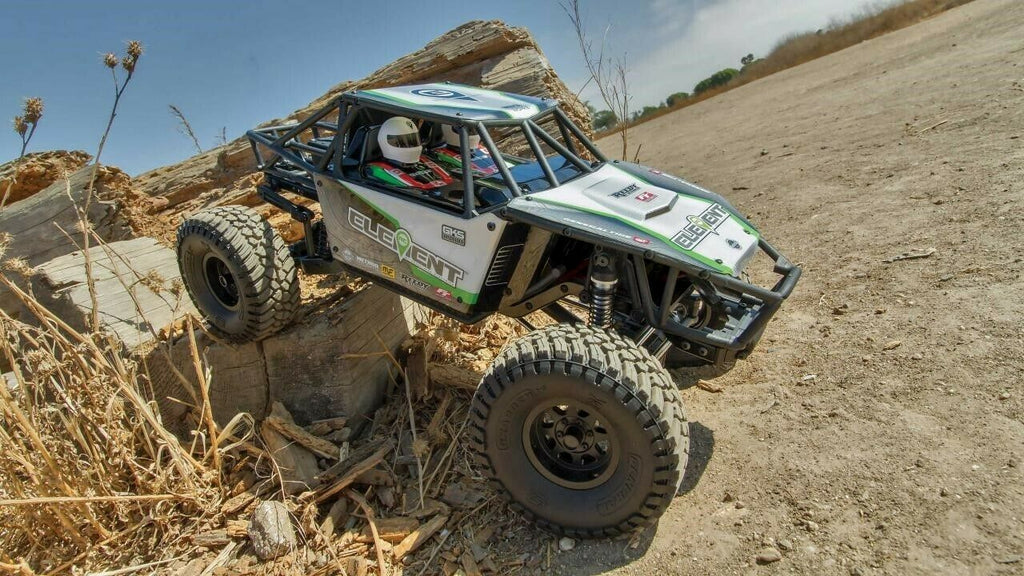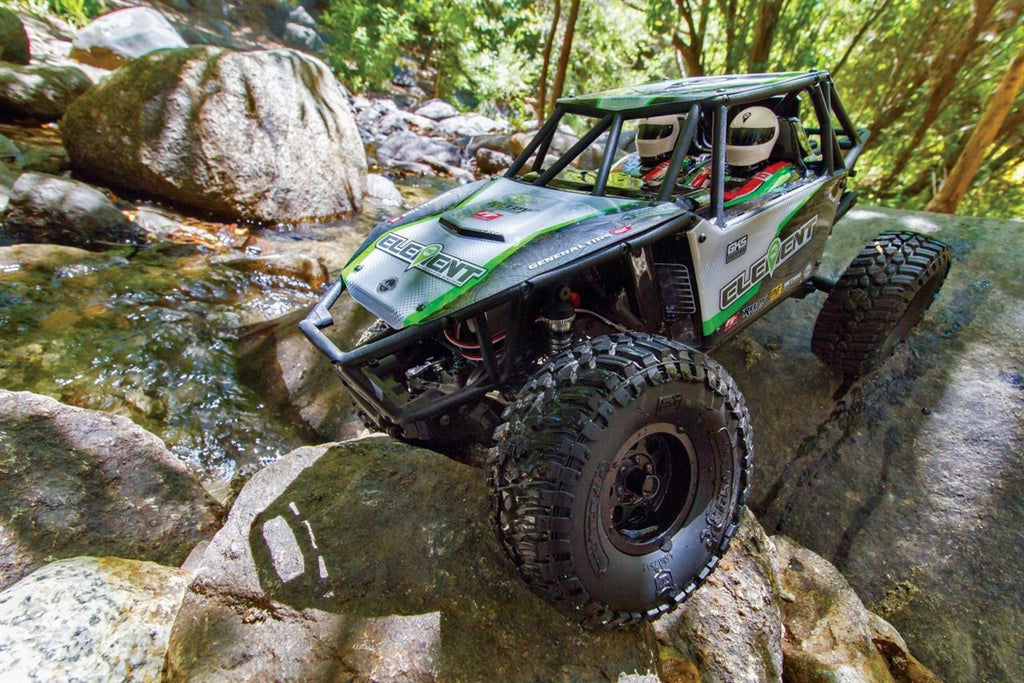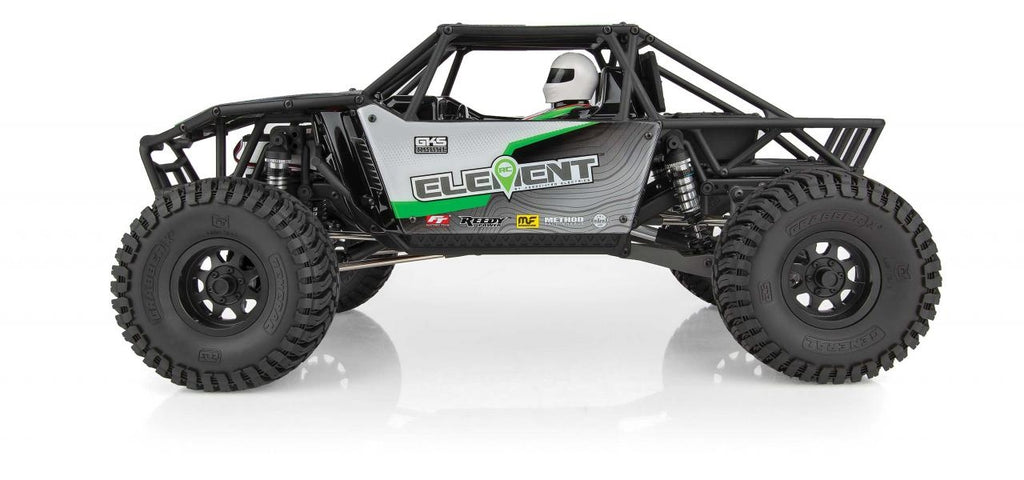 Element RC Enduro Gatekeeper 4x4 RTR 1/10 Rock Crawler w/2.4GHz Radio
Out of stock
Many in stock
The Element Enduro Gatekeeper 4x4 RTR 1/10 Rock Crawler is built for performance, and gives you what...
The Element Enduro Gatekeeper 4x4 RTR 1/10 Rock Crawler is built for performance, and gives you what you need to hit the trail with confidence. 
Aimed towards the serious RC rock crawler enthusiast, the Enduro Gatekeeper Buggy RTR is packed full of features that are sure to impress.
The unique Gatekeeper Suspension Package (GKS™) consists of rear trailing arms that move the shocks forward, allowing a larger window for shock tuning and providing improved weight bias. The trailing arms are paired with a rear anti-roll bar for a more stable and consistent suspension when crawling on the rocks. An adjustable aluminum track bar mount firmly bolted to the chassis rail gives the Enduro GK more reliable and responsive steering without the flex. Shock mount inserts with multiple mounting positions allow for precise suspension tuning, whether it's moving the shocks up, down, forward, or back. 
The performance doesn't stop there. The Enduro GK is built on our proven stamped steel C-channel Enduro chassis and retains the same awesome features as before. 
The behind-the-axle (BTA) steering link greatly improves approach angle and front-end clearance, making rough terrain much easier to handle. The Stealth X features the ability to adjust the rear drive ratio independently of the front drive across three levels: stock overdrives the front end 5.7% (installed in RTR), option 1 provides a one-to-one drive ratio front-to-rear (available separately), and option 2 overdrives the front end 11.83% (included with RTR). Feeding the power to the tires are 3-piece telescopic driveshafts with an extruded aluminum center section, universal front drive axles, and hardened steel ring and pinion gears. With the Enduro GK drivetrain, delivering useful and reliable power will not be an issue.
The Enduro Gatekeeper Rock Crawler Buggy RTR isn't just all about performance, it's got looks, too. With inspired styling from competition off road vehicles, the Enduro GK looks awesome tackling the terrain. 
The Gatekeeper buggy body comes equipped with a multi-piece injection-molded cage to replicate those found on full-size rock buggies. The polycarbonate body panels are screen printed with the Element RC livery and are detailed with high-quality decals. Also included is an interior panel with injection-molded driver and passenger heads, along with detailed decals for gauge cluster, center console, navigation and body suits. The looks don't stop there. Located in the back of the Gatekeeper body are a black, paintable, injection-molded radiator with cooling fans and detailed racing fuel cell. With all these cool scale details, the Gatekeeper caged body looks awesome on the trail.
Having a caged body may seem to make working on the GK chassis difficult, but that's not the case. The removable hinged body mount allows the whole body to swing forward, granting access to the entire chassis and electronics. This makes working on the chassis a breeze, whether out on the trail or in the garage.
Gripping the trail is a set of officially licensed General Grabber X3 tires molded in a high-performance, soft compound rubber.  The General Grabber X3 tires are mounted on officially licensed Method 701 Trail Series beadlock wheels. No more worrying if your RTR tires will come unglued. 
The combination of industry leading General Tires and Method Wheels make the Enduro Gatekeeper look and perform great.
Features:
Behind-the-axle (BTA) steering

Aluminum steering plates

CMS (Chassis Mounted Steering)

Steel 25T servo horn

Integrated servo winch mount

Threaded aluminum shock bodies

Stamped steel frame rails

Aluminum motor plate

Optimized ball cups for more fluid axle articulation

Telescopic driveshafts front and rear

Extruded aluminum driveshaft splines

One-piece rear axle design

Splined front axle with adjustable caster

Universal front drive axles

Machined input pinion gear

Metal ring gear

Machined steel top shaft

Heavy duty 5mm diameter steel links

Metal ball bearings

Adjustable front track bar
Specifications:
Scale: 1:10
Power: Electric
Length: 18.38" (467mm)
Width: 9.75" (248mm)
Weight: varies
Wheelbase: 325mm (12.8")
Transmission Ratio: varies
Needed to Complete:
2-cell or 3-cell shorty LiPo battery pack w/T-Style connector

Battery charger 

Optional: ASC27034 Reedy SC480X Program Card for fine-tuning the ESC.