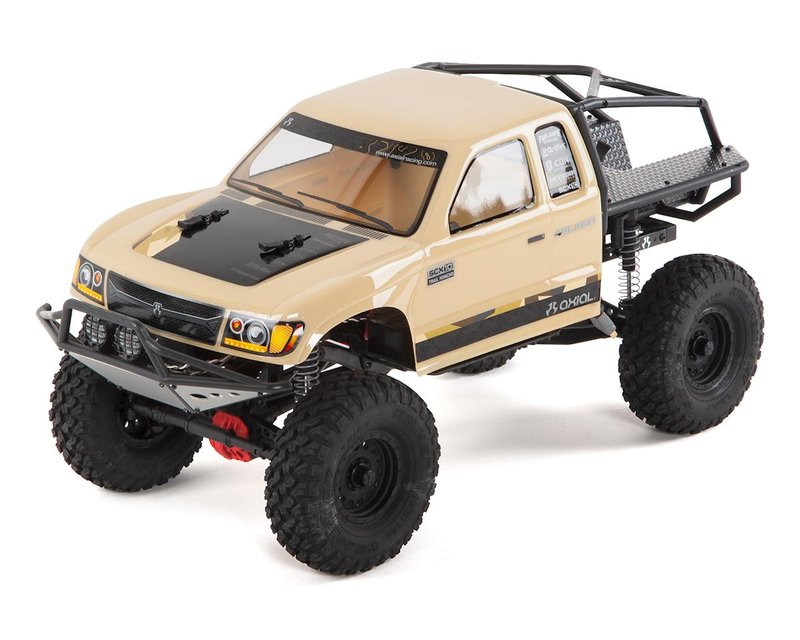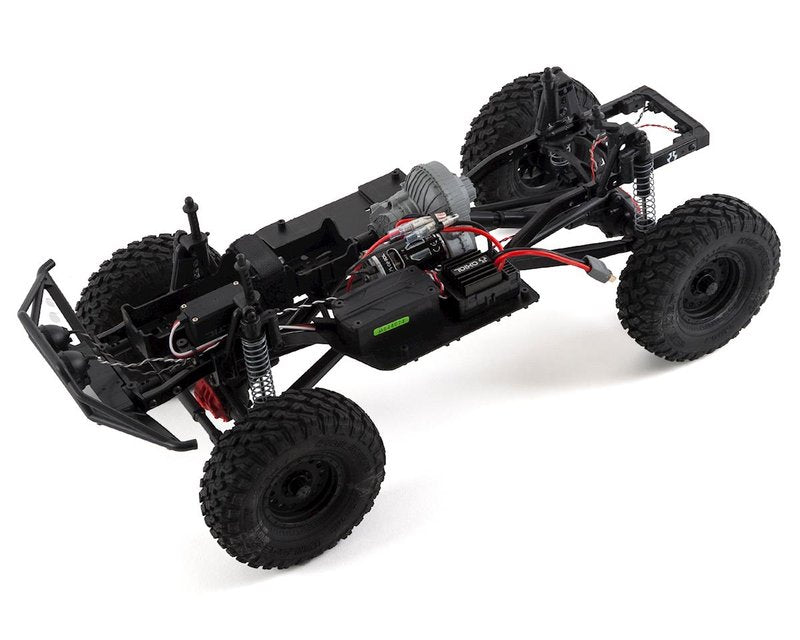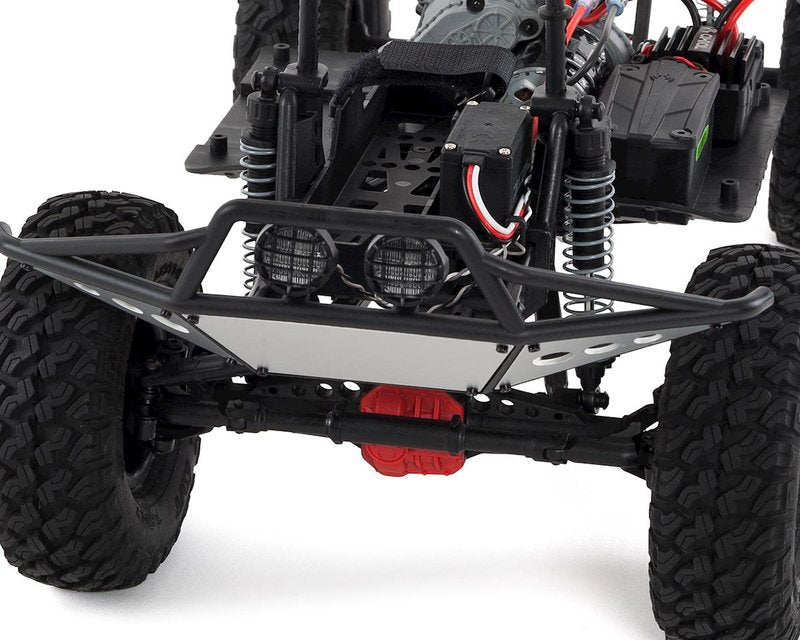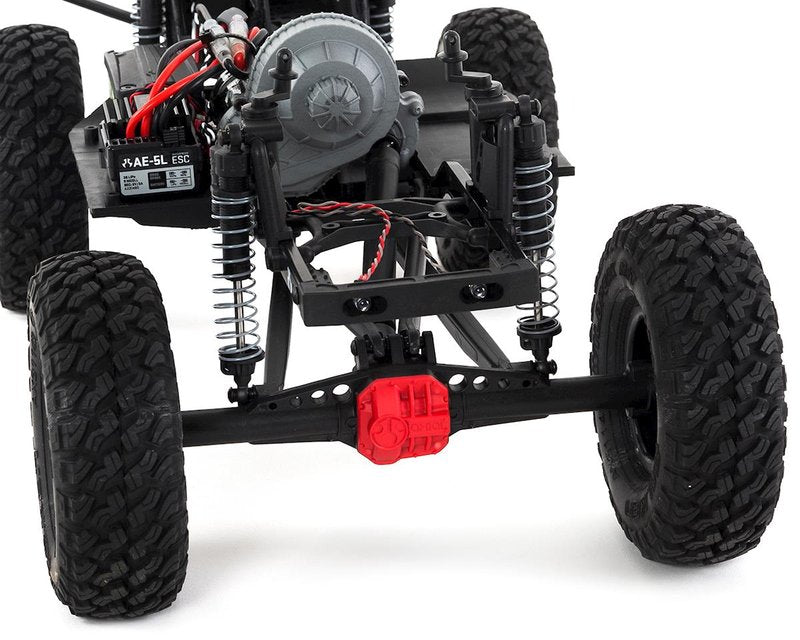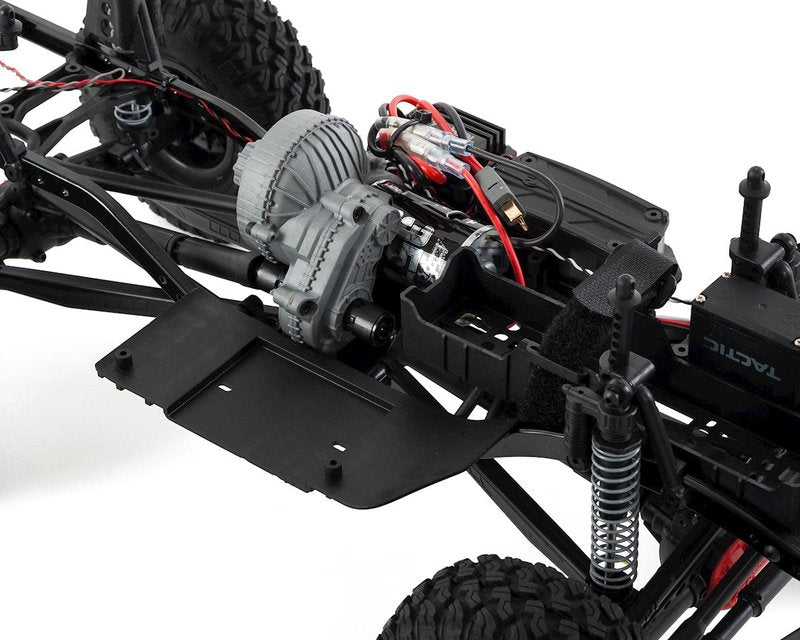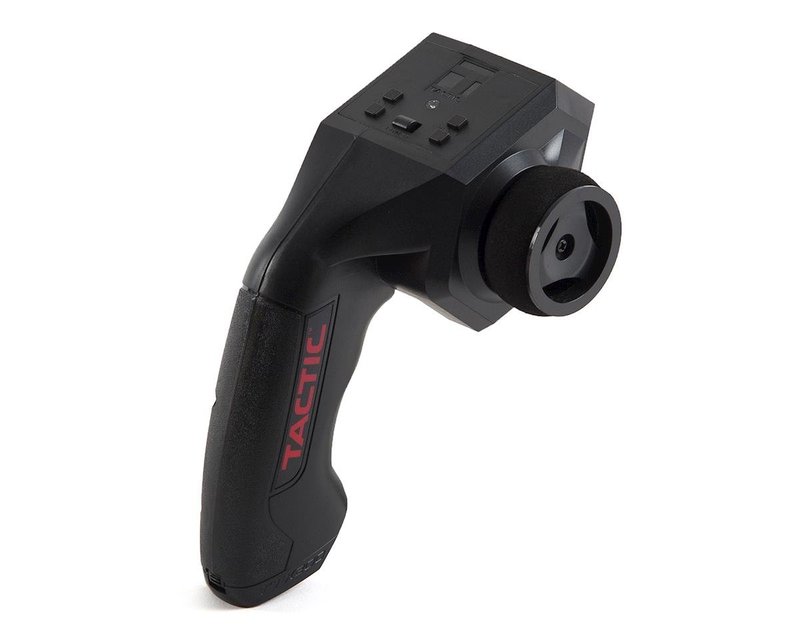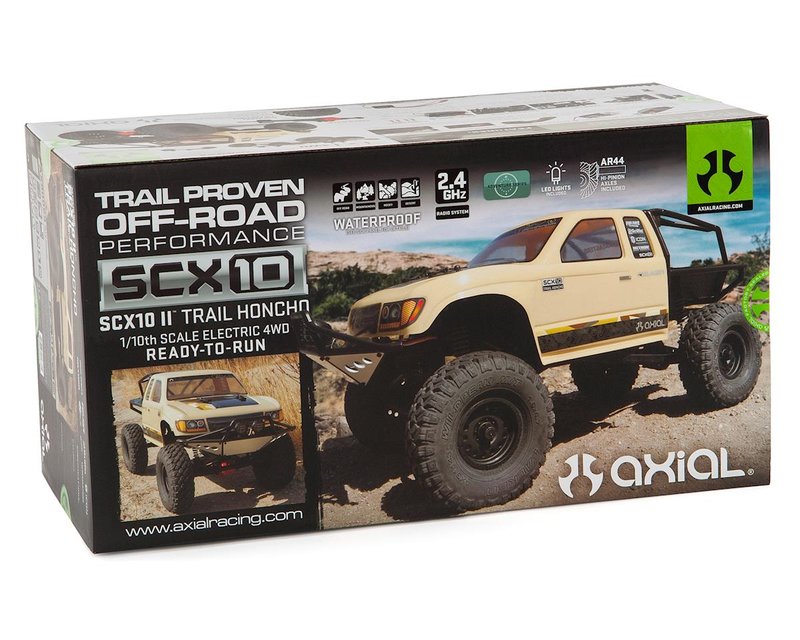 Axial SCX10 II Trail Honcho RTR 4WD Rock Crawler w/2.4GHz Radio
Out of stock
Many in stock
The Axial SCX10 II Trail Honcho RTR 4WD Rock Crawler combines the classic Honcho truggy cage and body, with...
The Axial SCX10 II Trail Honcho RTR 4WD Rock Crawler combines the classic Honcho truggy cage and body, with the proven SCX10 II platform to create a next gen Honcho that truly is trail ready. This truck is ready to tackle the trail and provide the reliability you need for adventure. Equipped for heavy duty trailing, this truck includes the proven AX10 transmission, updated single-piece AR44 axles, licensed Method Hole wheels and Falken Wildpeak M/T tires, as well as a set of LED headlights and tail lights. If you are ready to put your skills and stamina to the test, let the Trail Honcho take the lead and get you there. 
Features:

AR44 SINGLE PIECE AXLE:

 

The updated AR44 front and rear axles feature a single-piece design with molded truss for extreme durability. Integrated C-hubs and lockouts offer optimized performance as well as improved ground clearance. Metal dogbones, helical cut internal gears and high-quality bearings are all standard equipment. The ring gear/locker is a single-unit piece made of strong sintered metal, and the pinion is CNC cut for durability.
AX10™ TRANSMISSION:

 

The ultra compact transmission allows for a wide range of gearing choices. The overall ratio can be adjusted using different pinion and spur gear choices allowing super high speed or competition level crawling speed. The updated transmission housing design still retains the basic function of the original transmission, in a more scale looking case.

Final drive ratio (FDR) 42.00 – Original SCX10 was 33.06
20T metal drive gear, plastic idler gear and plastic lower gear (Optional: upgrade to all metal gears with this gear set: AX31585)
Scale looks – silver color looks like cast aluminum
Better mounting points at the base of the transmission – no more stripped screws!

FRONT TUBE BUMPER:

 

Classic Honcho scale front tube bumper with aluminum skid plates with two factory installed and functional PIAA LED light buckets.
LED LIGHTS INCLUDED:

 

Two white LED lights in the front Two red LED lights in the rear
AE-5L ESC WITH DRAG BRAKE, WATERPROOF:

 

The Axial AE-5L ESC is 3S LiPo capable yet easily switched "in the field" between LiPo and NiMh battery types with a simple jumper – no more complex procedures.

LED Light controller built-in with dual LED outputs for headlights/taillights.
Male Star Plug lead - compatible with the most common polarized plug.
Jumper 1 provides a simple plug and play choice between LiPo or NiMh.
Jumper 2 switches Drag Brake settings.
Waterproof design with Star Plug / laser etched heat sink.
NOTE:

 

LED LEADS NOT COMPATIBLE WITH OUR OLD LED LIGHT STRINGS, or THIRD PARTY LED LIGHT STRINGS. Connecting your old LED light strings to these leads will cause damage to the AE-5L ESC and the light strings.

1.9 METHOD HOLE WHEELS:

 

Clean, simple and strong, these officially licensed METHOD Hole Wheels are replicated in true form for durability and a clean line look.

26mm (1.02") wide
53.9mm (2.12") tall

1.9 FALKEN WILDPEAK M/T (S30 COMPOUND):

 

The Axial version of the Falken WildPeak M/T tire stands 4.7" tall with a width of 1.5". The extra height of this tire will offer additional ground clearance for those tough trails.

38.1mm (1.5") wide
119.4mm (4.7") tall

TACTIC TTX200 TRANSMITTER:

 

The TTX200 2.4GHz transmitter is a two-channel pistol grip radio with digital channel reversing for both steering and throttle along with digital trim and end point adjustment. The radio is powered by four AA batteries (included) and also features SLT (Secure Link Technology), which creates an unbreakable link between the receiver and your transmitter featuring an auto-bind design.
Specifications:
Length: 19.25" (489mm)
Width: 8.9" (226mm)
Height: 9.4" (223.4mm)
Stock Wheelbase: 12.3" (312.4mm), adjustable to 11.4" (289mm) or
12.0" (305mm) with optional link kits sold separately
Ground Clearance: 3.0" (77mm)
Weight: 4.5lbs (2.04kg) approximately, with electronics
Optimized Gear Ratio: 3.75:1
Final Drive Ratio (FDR): 40.44, stock (33.69-54.15 with different spur/pinion gear combinations, extra
spur and pinion gears must be purchased separately)

Needed to Complete: 

2S/3S Battery Pack w/T-Style Connector (or NiMH Battery w/T-Style Connector) 
Compatible Charger
(4) AA batteries for transmitter